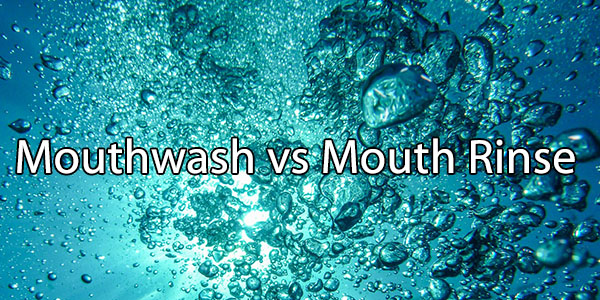 The dental hygiene section at your local store can be a confusing place, with dozens of different products all fighting for your attention, each and every one of which promises you the brightest smile and freshest breath possible. However, how much do you actually know about what these products actually do? For instance, what's the difference between a mouthwash and a mouth rinse?
What is a Mouth Rinse?
Although confusingly similar, they are actually two very different products which serve two very different purposes.
A mouth rinse is normally used prior to brushing and flossing your teeth. The purpose of a mouth rinse is to freshen your breath and to help prevent a buildup of plaque on the surfaces of your teeth. Mouth rinses often contain alcohol — for its antibacterial effect — and fluoride or other agents to help protect your teeth.
If you are one of the many people for whom brushing is not an effective treatment for gingivitis and plaque, your dentist may recommend a mouth rinse containing chlorhexidine, such as Peridex, Periogard, and Periochip. All three are highly effective rinses which work by killing a wide range of bacteria detrimental to dental health.
What is a Mouthwash?
A mouthwash, on the other hand, is used after brushing and flossing your teeth.
Mouthwashes are basically antiseptic solutions that are used to kill or retard the growth of bacteria in your mouth after brushing. To do this, mouthwashes commonly contain a high percentage of alcohol – up to 27 percent — and antiseptics. Other common ingredients include essential oils, flavoring agents, hydrogen peroxide, zinc, and fluoride.
For good dental health, mouth rinse and mouthwash are good additions to your daily dental care regimen.
Talk to Dr. Vann for more information. Schedule an appointment today! You can make your appointment online or you can call our office and speak to a member of our friendly dental team.