We truly believe that positive oral hygiene is vital for a long and healthy life, so when we provide dental care to your children, we lay down a solid foundation for healthy smiles and a lifetime of confidence. Dr. Vann loves helping children achieve the smiles they deserve in a warm and welcoming environment.

Fun & Stress Free Visits
The team at Vann Family Dental strives to provide a fun-loving and friendly atmosphere for your children. Dr. Vann has a calm and welcoming demeanor that will make your child feel comfortable and relaxed. Our office has lots of family-oriented amenities in the waiting area plus TVs in the treatment rooms so your child can watch their favorite TV shows, even during treatments.
A lifetime of positive oral health starts at a young age, and when children build positive oral habits while they're young, they are much more likely to maintain a healthy smile their whole life. A trip to the dentist at a young age can even prevent dental anxiety later in life once they learn how important and helpful we are!
Complete Dental Care for Kids of All Ages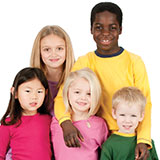 When we treat our younger patients, we emphasize education while providing the gentle care they need. We make their visits fun and informational, giving them the tools needed to maintain a beautiful smile for their whole life. When they grow up with healthy and attractive smiles, their self-esteem and confidence will be boosted, and they'll be proud of the way they look! We will help them achieve that healthy smile by providing comprehensive care in a way they can embrace.
We'll lay the foundation for a lifetime of healthy smiles.
Contact Us