It can be hard to find the time to give your teeth that extra TLC that they need after the double cup of coffee in the morning or the accidental skipped tooth brushing. Great oral health doesn't come down to just one moment of remembering or forgetting; it comes down to having healthy habits in general.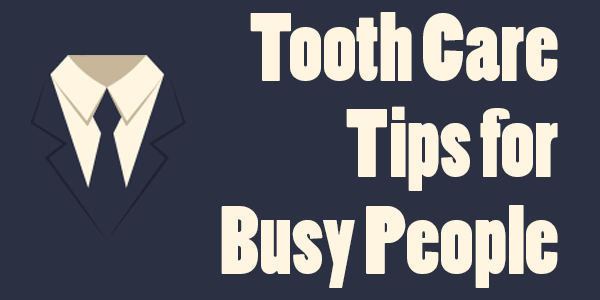 If you find yourself without enough time to take care of your pearly whites the way you should be, here are a few tips to try.
Pack a Tooth-Healthy Snack
In a world of fast food, skipped lunches, and packaged meals, its important to keep your teeth and body in mind when deciding what to eat. At the very least, pack a healthy snack that's also good for your teeth so you don't binge during your 3 o'clock slump on a candy bar. Try packing apples, carrots, or almonds for an afternoon snack that helps clean your teeth too!
Hydrate
Water is amazing. Its great for your body, and helps neutralize the acid in your mouth. After a double espresso shot in the morning, drink some water to ensure your teeth and mouth return to normal. Drinking water helps to prevent stains on your teeth and prevent enamel erosion.
Sugar Free Gum
While this certainly isn't as good as some of the other options, sugar free gum can help remove excess food from around teeth and freshen breath in between brushing. Keep some on hand in a desk drawer or purse!
Keep a Spare Toothbrush
Maybe you missed brushing in the morning, or perhaps that salmon you had for lunch is hanging in the air when you talk. Let's face it. There are some things that only a good brushing can fix, and you won't feel confident about your next business meeting or customer interaction until you do it.
Keep a spare toothbrush in your purse, desk drawer, or locker for a quick brush when you need it. Designate this as your work toothbrush and keep it stored safely (your toothbrush will grow harmful bacteria if not allowed to dry properly).
How do you keep your teeth clean at work?
Come in for a checkup and a new toothbrush!