Most dogs don't like having their teeth brushed. In fact, some dogs will resist having their teeth brushed so much that only a vet will be able to do it. Fortunately for some, a little training and kindness is all that's needed to get your dog to be obedient with getting their canines cleaned.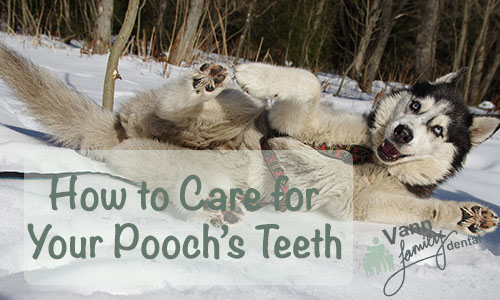 There are a few important things to know about taking care of your dog's oral health. We've compiled a list of things to remember before trying to brush your dog's teeth.
NEVER use toothpaste made for humans.
Perhaps the most important thing to remember is that you need to use a toothpaste that is specifically for animals. There are toothpastes for dogs that come in yummy flavors, including poultry, malt, and even peanut flavored! There are a lot of varieties to choose from, and if you're unsure which one is the most effective, just ask your vet for advice.
Get a professional cleaning once a year.
The local animal hospital, Piper Glen Animal Hospital, provides a great resource for how to brush your dog's teeth, including a cute video! Ideally you should brush your dog's teeth once a day, but even if you are diligent in doing so, you still need to get your pet a professional dental cleaning once a year.
Plaque and tartar build up and can lead to dental disease, discomfort, pain, and potentially loss of permanent teeth and gum tissue. Your dog's teeth are just like your own, and need just as much care. In addition to the vet professionally cleaning your pet's teeth, they may also need to take x-rays.
Use a dog toothbrush or recommended alternative.
There are plenty of dog toothbrushes that you can buy at your vet or online, but alternatives to a special dog toothbrush include:
A child's toothbrush
A finger toothbrush
Gauze around a finger
Remember to be gentle with your pet and give a lot of positive reinforcement and love! Play with your dog, pet them, or reward them with a favorite activity to let them know that brushing their teeth is a good thing.
Vann Family Dental cares about the dental health of your entire family!
Call today to receive comprehensive dental care!