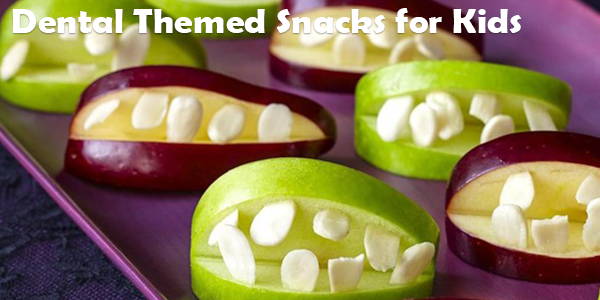 There are children that love visiting the dentist, especially if they get a prize or a toothbrush after their exam. Some kids, however, need something extra when trying to prompt enthusiasm over teeth and dental care. Before your son or daughter's next dental visit or in celebration of a lost tooth, why not wow them with fun foods that are all about teeth? Here are some ideas for dental themed snacks for kids.
Edible Toothbrushes
This is a super easy and healthy snack that is all about dental health. Wash and separate celery stalks and cut to 4-6 inches in length. Grab some mozzarella string cheese and cut into 1-inch pieces, and stuff into the top of the celery stalk. You can experiment with indentations on the cheese, giving it the appearance of bristles, but this treat is yummy and cute regardless. 
Kids Mouth and Teeth
This is another healthy but yummy snack that is also very simple. Cut a red apple into slices about 1/2 inch thick. Spread peanut butter on one side of each apple. Stand small marshmallows upright along the skin side of the apple, and then place the other apple, peanut butter side down, on top of the marshmallows. Like magic, you have a fun, gooey treat that looks just like lips and teeth! Peanut allergy? Just substitute preserves, apple butter, or even yogurt. 
Watermelon Teeth
Watermelon teeth are great if you're celebrating a lost tooth due to the softness of the fruit. Cut watermelon wedges to desired thickness and cut along the fruit cutting up towards the rind to carve teeth. After the teeth are cut, sprinkle a bit of powdered sugar on each "tooth" to make it white. Yummy, soft, and healthy!
These are just a few great ideas to make dental health fun for your little one. Contact us at Vann Family Dental for more ideas on getting your child excited about dental health. 
Schedule an appointment today!